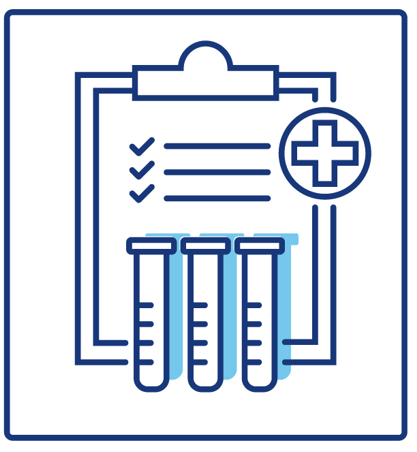 Thyroid Panel Plus
$79.99
This blood tests measures TSH, T3 Uptake, T3, Free T3, Thyroxine (T4), Free Thyroxine Index and Free T4.
This discount online blood lab test measures TSH, T3 Uptake, T3 Total, Free T3 (FT3), Thyroxine (T4) Total, Free Thyroxine Index and Free T4 (FT4).
A thyroid panel is a group of blood lab tests that are often ordered together to help evaluate thyroid gland function and to help diagnose thyroid disorders. The tests included in a thyroid panel measure the amount of thyroid hormones in your blood. These hormones are chemical substances that travel through the bloodstream and control or regulate your body's metabolism, how it functions and uses energy.
TSH is produced by the pituitary gland and is part of the body's feedback system to maintain stable amounts of the thyroid hormones T4 and T3 in the blood. When concentrations decrease in the blood, the pituitary is stimulated to release TSH. The TSH in turn stimulates the production and release of T4 and T3 by the thyroid gland. When the system is functioning normally, thyroid production turns on and off to maintain constant blood thyroid hormone levels.
Preparation: No special preparations on your part for this test. As with any blood draw, it is a good practice to drink water ahead of the draw so that you are well hydrated.
Estimated time to receive results is 2-3 days.
Please be advised, that our services are strictly self pay and are not eligible for submission as a claim to your health insurance provider. However, you can submit the receipt for reimbursement to many Flexible Spending and Health Savings Accounts for reimbursement.