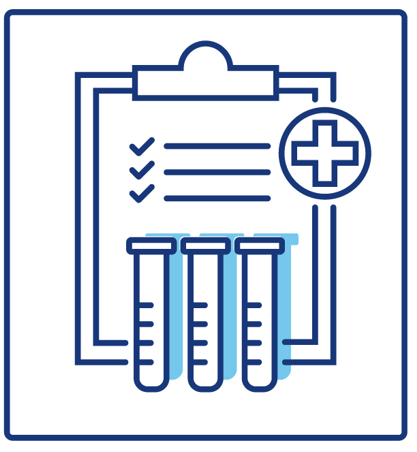 Thyroid Antibodies with TPO
$89.99
Thyroid Antibodies Test includes 1) antithyroglobulin antibody and 2) thyroid peroxidase (TPO) antibodies
Thyroid Antibodies with TPO
This discount online blood lab test, Thyroid Antibodies, includes 1) antithyroglobulin antibody and 2) thyroid peroxidase (TPO) antibodies.
Thyroid antibody blood lab testing is primarily ordered to help diagnose an autoimmune thyroid disease and to separate it from other forms of thyroiditis. It may be ordered to help investigate the cause of a goiter and/or performed as a follow-up when other thyroid test results (such as T3, T4, and/or TSH) show signs of thyroid dysfunction.
One or more thyroid antibody tests may also be ordered if a person with a known non-thyroid-related autoimmune condition, such as systemic lupus erythematosus, rheumatoid arthritis, or pernicious anemia, develops symptoms that suggest thyroid involvement. This involvement may occur at any time during the course of the other condition(s).
Estimated time to receive online results is 2-3 business days.
Preparation: No special preparation is needed. Fasting is not required for this blood test. In general, being well hydrated (drinking plenty of water before the blood draw) will help make your veins somewhat easier to locate and access for the blood draw.
Sample of Thyroid Antibodies test
Please be advised, that our services are strictly self pay and are not eligible for submission as a claim to your health insurance provider. However, you can submit the receipt for reimbursement to many Flexible Spending and Health Savings Accounts for reimbursement.