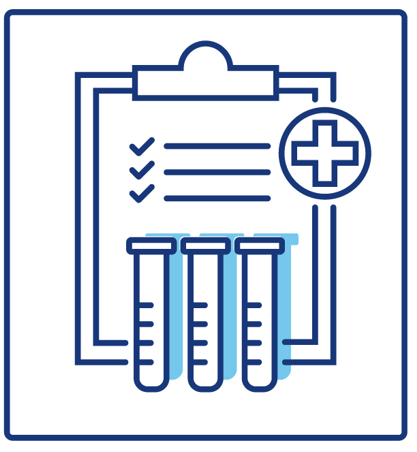 Metabolic Panel (Comprehensive)
$36.99
Blood test that measures your sugar (glucose) level, electrolyte and fluid balance, kidney function, and liver function.
This online blood test is also referred to as the Comprehensive Metabolic Panel or the CMP 14 (as opposed to the Basic Metabolic Panel or BMP 8).
Glucose – blood sugar, Fast 8 hours.
Urea Nitrogen (BUN): A waste product of the liver excreted by the kidneys. High values may indicate kidney malfunction and/or dehydration
Creatinine: This is a waste product of muscle metabolism that is discarded by the kidney. It is elevated in kidney disease, muscle wasting disease, and sometimes the day after strenuous physical exercise.
BUN/Creatinine Ratio: Both BUN and creatinine are elevated in kidney failure, but they are elevated differently depending on the cause of the failure. This ratio helps determine the type of kidney failure.
eGFR
Sodium, Potassium, and Chloride: "Electrolytes" help make up the salt balance and acid/base balance in the body. They can be affected by diuretics or water pills, high blood pressure, heart failure, kidney and lung disease. The balance among these elements is important for proper functioning of the heart and brain.
Carbon Dioxide: Part of the electrolyte pane used to detect, evaluate and monitor electrolyte imbalances.
Calcium: screens for range of conditions relating to the bones, heart, nerves, kidneys, and teeth. Blood calcium levels do not directly tell how much calcium is in the bones, but rather, how much total calcium or ionized calcium is circulating in the blood.
Albumin, Globulin and Total Protein: Measures the amount and type of protein in your blood. They are a useful index of overall health and nutrition. Abnormal results are an indicator of under nutrition, liver or kidney disease, cirrhosis, multiple meyloma, sarcoid, amyloid, lupus, and/or major infections. Globulin is the "antibody" protein important for fighting disease. If one of these values is high, but the other values are within expected ranges, the result is probably not significant, but only your physician can confirm this.
Alkaline Phosphatase: A bone and liver enzyme. High values are associated with liver and gall-bladder disease. Expect to see higher values in adolescents and pregnant or breast feeding women. Low values are probably not significant, but can only be confirmed by your physician.
Bilirubin: Primary pigment in bile. It is derived from hemoglobin and processed by the liver, and builds up when the liver is functioning poorly or when some other disorder reduces the normal flow of bile. It is increased also when there has been destruction of red blood cells.
AST & ALT: Injury to cells releases these enzymes into the blood. Liver disease and heart attacks, as well as serious physical injury can cause elevation of these values. Low values are probably not significant, but can only be confirmed by your physician.
This is an 8 hour fasting test. Expect Results in 1-2 business days.
Please be advised that our services are strictly self-pay and not eligible for submission as a claim to your health insurance provider, medical bill sharing company, Medicare/Medicaid or other third-party payor.