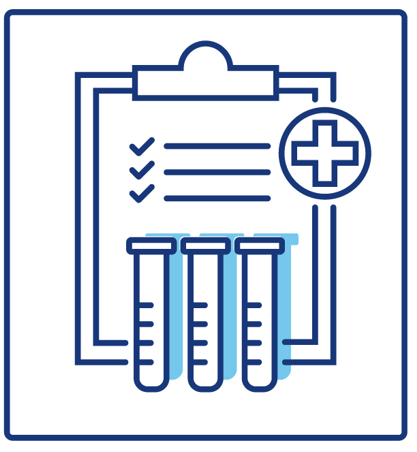 Includes: cholesterol, tryiglycerides, HDL cholesterol and LDL cholesterol and Cardio C-Reactive Protein
Lipid Panel Online Blood Test
Cholesterol

– There are two main groups of fat in the blood, cholesterol and triglycerides. Increased cholesterol may lead to arteriosclerosis (hardening of the arteries), diabetes, thyroid, liver and pancreatic disease.

Triglycerides

– This blood fat is also involved in arteriosclerosis, diabetes, thyroid, liver and pancreatic disease. They may be elevated in the 200-400 range if you have eaten within 10 hours of the blood draw. If your results are in this range and you did not fast, a repeat evaluation should be obtained.

HDL (High Density Lipoprotein) Cholesterol

– This is the "good" fat-protein combination. The higher the value, the lower the risk of developing heart disease. HDL can be increased with regular aerobic exercise, monounsaturated fats such as olive and canola oils, and cessation of smoking. Mild use of alcohol (one or two glasses of wine per day) has been reported to increase HDL.

LDL (Low Density Lipoprotein) Cholesterol

– This is the "bad" fat-protein combination, and the lower the LDL the better. The higher the LDL, the higher the risk of developing heart disease. This level can be decreased with reduction in fat intake, weight control, and regular exercise. Because this value is calculated using the triglyceride result, fasting is important for an accurate LDL and triglyceride result.
Cardio C-Reactive Protein Online Test
The Cardiac C-Reactive Protein Test (hs) is a tool for assessing risk of cardio vascular disease. CRP is a protein present in the blood when certain inflammatory processes are occurring. It is now known that arteriosclerotic plaques in the coronary arteries are an inflammatory process that correlates with C-reactive protein, and it is believed to be a good prognosticator of heart disease. The test can help estimate your chance of developing cardiovascular disease, and your risk of having a sudden heart attack. This blood test was redesigned from the traditional C-Reactive Protein test to be sensitive enough to detect chronic low-level inflammation. Test results are independent of cholesterol, family history, and other traditional risk factors for cardiovascular disease. The test can be used in conjunction with traditional tests, such as cholesterol, to determine your risk. Recent illness or tissue injury, and chronic inflammation from arthritis can increase C-RP levels and falsely influence the risk rating for heart disease from this test.
Estimated time to receive results is 1-2 days.
Preparation: you should fast 12 hours prior to this test, unless you are diabetic or pregnant. Fasting means abstaining from food and any non-water drinks. Do drink plenty of water while fasting and continue with any prescribed medications.
Please be advised, that our services are strictly self pay and are not eligible for submission as a claim to your health insurance provider. However, you can submit the receipt for reimbursement to many Flexible Spending and Health Savings Accounts for reimbursement.